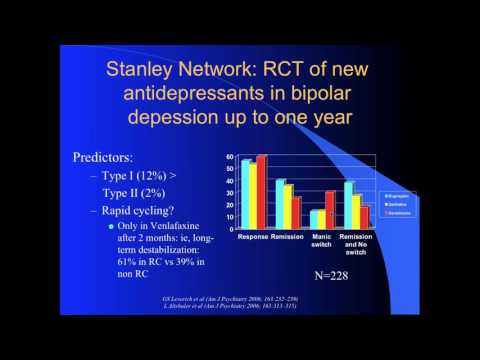 Dr. Nassir Ghaemi
Presented on April 5, 2017
In this webinar, Dr. Ghaemi will overview the use of antidepressant medication in the treatment of bipolar depression.
Antidepressants have been repeatedly proven ineffective, and even harmful, in bipolar depression in the most valid scientific evidence, namely numerous randomized clinical trials, yet they remain widely used in clinical practice. They are in fact the most commonly used class of medication in bipolar illness, given to about 50% of patients, whereas the most proven effective treatment for bipolar illness, lithium, is only given to about 10% of subjects. Similarly, other proven effective mood stabilizers, like valproate and carbamazepine, are much less prescribed than antidepressants. Thus, clinicians routinely are prescribing ineffective and harmful medications for bipolar illness, and they routinely are withholding the most effective and helpful medications for bipolar illness.
Tell us what you think! After you've watched the webinar, please take our follow-up survey.
S. Nassir Ghaemi MD MPH is Professor of Psychiatry at Tufts University School of Medicine, and Director of the Mood Disorders Program at Tufts Medical Center in Boston. He also continues to teach at Cambridge Health Alliance, part of Harvard Medical School, where he is a Clinical Lecturer.   He is a psychiatric researcher with expertise in depression and bipolar disorder, and training in philosophy and public health.  He is founding editor of The Psychiatry Letter, a monthly newsletter for mental health clinicians. He is the author of A First-Rate Madness: Uncovering the Links Between Leadership and Mental Illness¸ a New York Times Best Seller (Penguin Group, 2011), The Rise and Fall of the Biopsychosocial Model, published in 2009 by the Johns Hopkins University Press, and  A Clinician's Guide to Statistics and Epidemiology in Mental Health, published in 2009 by Cambridge University Press. Previous books he has authored include The Concepts of Psychiatry (Baltimore, Maryland: Johns Hopkins University Press, 2003, 2007), as well as the 2nd edition of Mood Disorders: A Practical Guide (Baltimore, Maryland: Lippincott, Williams, and Wilkins; 2003, 2007), and others.  He has also published over 200 scientific articles or book chapters, and serves on the editorial board of numerous journals.
Dr. Ghaemi obtained his medical degree at the Medical College of Virginia in Richmond, completed a medical internship at Massachusetts General Hospital (MGH) in Boston, psychiatry residency at McLean Hospital in Belmont, Massachusetts, and a research psychopharmacology fellowship in mood disorders at MGH, followed by faculty positions at George Washington University, Harvard Medical School, Emory University, and now Tufts University School of Medicine. He received a Master of Arts degree in philosophy from Tufts University in 2001 and a Master of Public Health degree in the Clinical Effectiveness Program from the Harvard School of Public Health in 2004.