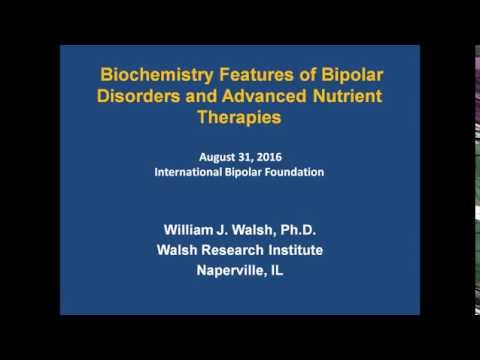 This webinar will summarize laboratory studies of 1,600 bipolar patients and describe nutrient therapy approaches aimed at normalizing brain chemistry. The presentation will discuss treatments for methylation imbalances, pyrrole disorders, metal-metabolism abnormalities, oxidative overload, and toxic metals. The epigenetic impacts of specific nutrients on neurotransmission will be presented along with the role of mitochondrial and glial processes in this challenging disorder.
Tell us what you think! After you've watched Dr. Walsh's presentation, please take our follow-up survey here. 
William Walsh, Ph.D,FACN, is president of the non-profit Walsh Research Institute near Chicago, and directs doctor-training programs in the U.S., Australia, and Norway. During his 30+ years as a research scientist and engineer, Dr. Walsh developed a science-based nutrient system that has helped thousands of patients challenged by behavioral disorders, bipolar disorder, depression, anxiety, schizophrenia, ADHD, autism, and Alzheimer's disease, and is used by doctors throughout the world. Dr. Walsh has researched biomedical details for individuals previously considered as untreatable: from personality disorders to others insufficiently treatable with modern psychopharmacology. Dr. Walsh's approach recognizes that nutrient imbalances can alter brain levels of key neurotransmitters, disrupt gene expression of proteins and enzymes, and cripple the body's protection against environmental toxins. His book, Nutrient Power (Skyhorse Publishing, 2012), describes his findings and the advanced nutrient therapies which correct biochemical and methylation imbalances that are causing learning, behavioral, developmental and mental health issues.