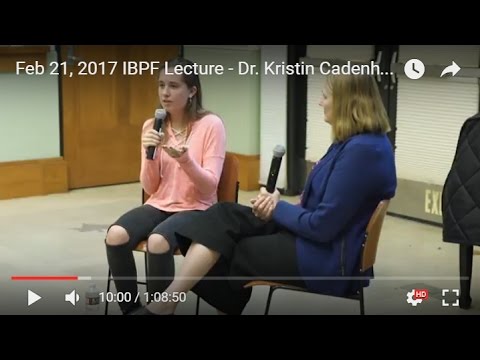 'Psychotic' symptoms such as delusions (fixed, false, irrational or illogical beliefs) and hallucinations (hearing, seeing, or sensing things without there being a stimulus to cause them) can sometimes occur in persons with Bipolar Disorder.
In this lecture, Dr. Cadenhead will discuss the efforts of the North American Prodome Longitudinal Studies (NAPLS) consortium to develop a "Psychosis Risk Prediction Calculator" to better identify individuals at highest risk of developing a psychotic illness (Schizophrenia or Affective Psychosis). They are also developing biomarkers that can be used to not only predict psychosis risk but also tell us something about the mechanism by which psychosis emerges. Finally, she will review promising treatments that may help to delay or prevent the development of psychotic illness and improve outcome.
In addition, Christine Frey, Mental Health Advocate, will share her lived experiences as a teenager with these symptoms, as well as a message of hope and healing.
Dr. Kristin Cadenhead is a Professor of Psychiatry at University of California San Diego (UCSD) and an Attending Physician at the UCSD Medical Center. She is the Director of the Cognitive Assessment and Risk Evaluation (CARE) Early Psychosis Program at UCSD. She was recently appointed as the new Residency Training Director for the Department of Psychiatry. She is a Clinical Foundations Director for the Medical School at UCSD. She completed her residency in Psychiatry and Fellowship in Schizophrenia Research at UCSD. Dr. Cadenhead is internationally known for her expertise in early psychotic illness. She has worked extensively with patients suffering from psychotic disorders as a Medical Director of Inpatient and Outpatient Services at both the UCSD Medical Center and VA Medical Center over the last 26 years. Dr. Cadenhead's primary research interests include risk prediction, biomarkers and treatment in the early phases of a psychotic illness. She is part of international research consortia and networks that focus on cutting edge research and treatment in early psychotic illness. The CARE treatment program provides expert diagnostic consultation and integrates evidence based treatments for early psychosis that have shown efficacy in clinical trials. The aims of the CARE program are to identify psychosis early, understand the mechanism by which psychosis evolves, provide targeted intervention and prevent the devastating effects of a first psychotic episode.
My name is Christine Marie Frey, and I'm 15 years old. I have been living with mental illness for over three years now. Through my experiences, I learned how to cope and find happiness. I've rebuilt my life based on the basics of good mental health strategies. I have become a mental health advocate so I can help others find hope, while I maintain my own mental health.
The information contained in or made available through this lecture cannot replace or substitute for the services of trained professionals in the medical field. We do not recommend any specific treatment, drug, food or supplement. International Bipolar Foundation is not intended to be a substitute for professional medical advice, diagnosis or treatment. Always seek the advice of your physician or other qualified health provider with any questions you may have regarding a medical condition. Never disregard professional advice or delay in seeking it because of something you have read or received from International Bipolar Foundation