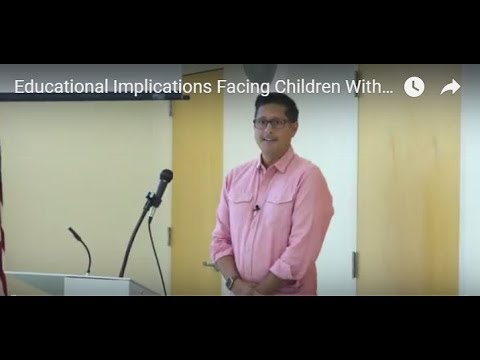 Navigating the educational system for the proper supports and services can be impossible at times. Children with Bipolar Disorder struggle, mostly because their disability is a "hidden" one.  Many times children with Bipolar Disorder require a complexity of services that are not easily understood or provided. Dr. Haytasingh provides valuable knowledge from over 22 years working with children in school who have Bipolar Disorder. Dr. Haytasingh discusses the following issues related to educating children and adolescents with Bipolar Disorder:
1. Neuropsychological Assessment of Children with Bipolar Disorder
2. Eligibility for special education: a continuum of services.
3. Educational planning in elementary, middle, and secondary school.
4. Preparing the student for adulthood.
Dr. Rienzi Haytasingh is a practicing licensed educational psychologist who has devoted his entire professional career towards promoting the lives of students with disabilities and differences. He has been working for kids for over 21 years. As a Diplomate of the American Board of School Neuropsychology, Dr. Haytasingh has taken his appreciation for brain related differences in children, and used that knowledge to properly evaluate and help create individual programs for students in public and private educational settings.
Dr. Haytasingh received his bachelor's degree in psychology and child development from California State University at Chico in 1999, and his master's degree in school psychology from National University in 2001. He earned his doctorate in school and educational psychology from Alliant International University, with emphasis in neuropsychology in 2005, and a post doctorate certificate in school neuropsychology from Texas Women's University in 2006. He received his board certification in 2006 from the American Board of School Neuropsychology. Dr. Haytasingh worked in public schools for 12 years as a school psychologist. Dr. Haytasingh has also mentored and trained graduate students in School Psychology for over 15 years, at Chapman University, San Diego State University, Allianz International University, National University, and Brandman University. Dr. Haytasingh also consults with school districts and parent attorneys on matters of special education and disability rites, as an expert witness. He presents each year to several community and national groups, including, International Bipolar Foundation, Autism Society, Epilepsy Foundation, and local community based groups.
Learn more about Dr. Haytasingh and his work at www.brainlearning.com