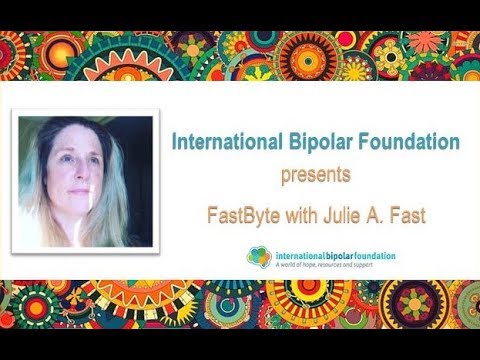 Julie shares the story of her first suicidal episode and how she has learned to manage and live with her suicidal bipolar disorder episodes.  She explains how she separates herself from the suicidal symptoms of bipolar and what she does to stay alive when the mood swings are raging. Julie knows this is a sensitive topic and speaks gently about the moods that create dangerous thoughts and behaviors of suicide. Julie emphasizes the importance of treating bipolar first when thoughts of suicide arise and explains that suicidal thoughts in bipolar are no different than manic thoughts in bipolar. They are symptoms that can be treated.
A note from Julie:  I don't get nervous making videos and talking in front of people, but my bipolar definitely creates anxiety. I want to encourage all of us to put out products that are less than perfect, to feel okay if we cry when talking about something important and to ask for help when we feel embarrassed, weak and unloved- all signs that the bipolar is in control! I am willing to be embarrassed and a bit of a mess when I am working on a project. The outcome is usually much better than we think it will be in the moment. I believe in you. If you are in need, ask for help.
Click here to view Julie's article with Psychology Today
International Bipolar Foundation is not intended to be a substitute for professional medical advice, diagnosis or treatment. We do not recommend any specific treatment, drug, food or supplement. Always seek the advice of your physician or other qualified health provider with any questions you may have regarding a medical condition. Never disregard professional advice because of something you have read from IBPF.
*The views, thoughts, and opinions expressed belong solely to the speaker, and do not necessarily reflect the official policy or position of International Bipolar Foundation*