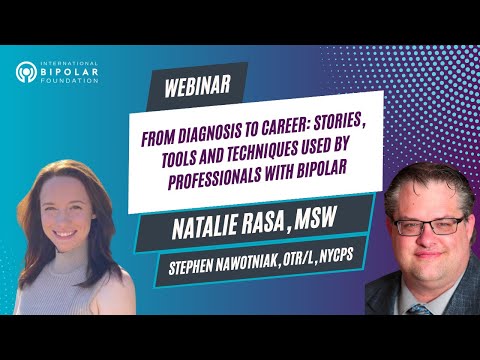 Learn about the lived experience of being a healthcare professional with bipolar disorder and how this experience can be used to help evolve our current mental health system with Natalie Rasa, MSW and Stephen Nawotniak, OTR/L, NYCPS.
Several topics are covered including, using lived experience with bipolar to assist clients, dealing with disclosure, and skills and support that have been helpful to have career success and satisfaction.
Natalie Rasa is a psychotherapist in Chicago, IL with lived bipolar experience. She has been involved in the social work and therapeutic field for over ten years with graduate experience at the Masters of Social Work program at Boston University. A few topics she specializes in are bipolar disorder (all types), anxiety-related disorders, obsessive-compulsive disorder (OCD), and depression.
Stephen Nawotniak, OTR/L, NYCPS is an occupational therapist and a New York State-certified peer specialist. He received his Master's in Occupational Therapy from Utica University and a self-designed Master's through Buffalo State College. For this self-designed degree, Steve hiked, biked, sailed, and canoed from Buffalo, NY to Key West, FL over 8 months giving presentations to over 1000 youth on the values of volunteerism and education.
The content of the International Bipolar Foundation webinars is for informational purposes only. The content is not intended to be a substitute for professional medical advice, diagnosis, or treatment. Always seek the advice of your physician and never disregard professional medical advice because of something you have read in any IBPF content.