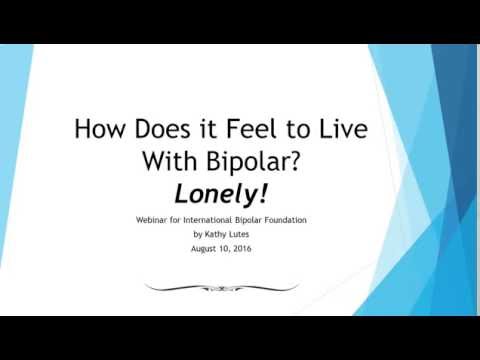 Feeling lonely isn't a mental health problem in and of itself; however, having a mental health problem increases your chance of feeling lonely and feeling lonely can have a negative impact on your mental health. Everyone feels lonely sometimes. People feel lonely when they're all alone and by themselves; people feel lonely when they're in a crowd surrounded by people. Join this webinar as we discuss the root causes of loneliness and learn tips on how to overcome it. Explore the healing agents for loneliness: awareness, acceptance, and compassion. Discover what leads to healthy, connected relationships. Choose when you want to be alone, but never be lonely again!
Tell us what you think! After you've watched Kathy's webinar, please take our follow-up survey here.

Kathy Lutes currently works as the Director of Counseling for The Church at Rancho Bernardo. For 18 years she has been a passionate advocate for those living with a mental health diagnosis. Having been diagnosed with Bipolar disorder in 1995 and spending years in and out of psych hospitals, she developed a deep compassion for the mentally ill. She understands first-hand the devastating ramifications of the illness and the stigma that surrounds it. She sits on the Board of Directors for CAHM (Community Alliance for Healthy Minds) and is on the Steering Committee for the North Inland Faith Based Partnership Council. She is a certified Mental Health Coach for the Mental Health Grace Alliance and pioneered the Grace Groups in the state of California. Kathy has been contracted to work with Interfaith in developing a Faith-Based Academy curriculum to train faith leaders about mental health issues. Kathy has been the guest speaker at several events, including women's retreats, NAMI Conference, Mira Mar College, and Emmanuel Faith Church to name a few. She was the first trainer for the NAMI Peer-to-Peer program in the state of California and designed the first Train-the-Trainer manual so more mentors could be trained to carry on the classes. Her work with NAMI includes being an "In Our Own Voice" presenter, CARE group facilitator and a state certified trainer for Peer-to-Peer and NAMI CARE. She continues in her work with NAMI as a guest panelist for the PERT Academy. In 2003 she started Hope, InC. a Christian support group for those suffering from depression. She was recently nominated for the North Chamber Lifetime Achievement Award. Kathy was awarded the Mental Health Volunteer of the Year Award in 2002. Kathy volunteered at Sharp Mesa Vista Hospital for almost 10 years and trained other volunteers in various capacities. She was on the Volunteer Board and helped in the design and construction of the Dan Allen memorial garden. Prior to working at The Church at Rancho Bernardo, Kathy worked as a Career Consultant for Lee Hecht Harrison.