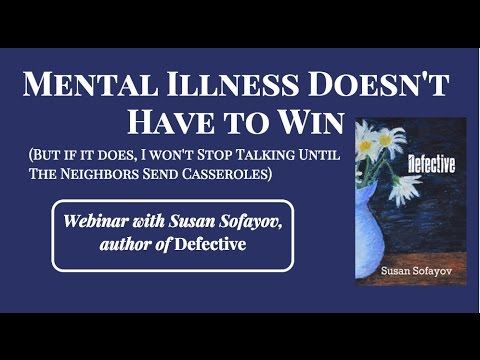 Susan Sofayov shares her journey of her bipolar diagnosis at the age of 46. Listen as she speaks candidly of how this saved her marriage and enabled her to achieve her dream of writing her book Defective which has offered hope and insight to many readers. 
Tell us what you think! After you've watched the webinar, please take our follow-up survey.
About Susan Sofayov:
Based in Pittsburgh, author Susan Sofayov is married to a wonderful but completely unsupportive husband, who feels she should focus on her "real job" of running the family real estate management company. Her debut novel Defective chronicles a young woman's battle to live an ordinary life while struggling with undiagnosed Bipolar II disorder. Her second book, The Kiddush Ladies, follows a tight-knit community through death, marriage and other challenges. It is scheduled for release in December 2016 by Black Opal Books. Susan's fiction delves into themes such as mental illness, faith, friendship, Judaism, and the existence of God. She has a BA in English Literature and Political Science from the University of Pittsburgh and a Masters in Teaching from Chatham University. In the corporate world, Susan served as vice president of child care for the largest provider of child care in Western Pennsylvania. She has three adult children, a small white dog with a princess attitude, and loves gummy bears.