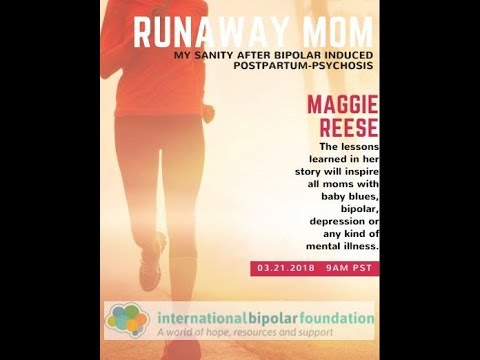 The lessons learned in her story will inspire all moms baby blues, bipolar, depression, or any kind of mental illness.
Maggie Reese was stricken with the most severe type of bipolar disorder and her life fell into utter chaos. She had to be committed to a psychiatric hospital but eventually she overcame her challenges and became a happily adjusted adult, married to the love of her life and leading a good life. This story is chronicled in her first book "Runaway Mind."
Shortly after giving birth, Maggie spiraled into as rough a psychotic break as you can imagine. She lost all touch with reality putting her newborn baby, herself and everyone around her into danger.
Runaway Mom: A Race to Regain my Sanity after Bipolar-Induced Postpartum Psychosis is Maggie's second book to tell the hard-earned story of recovery from her devastating postpartum break.
International Bipolar Foundation is not intended to be a substitute for professional medical advice, diagnosis or treatment. We do not recommend any specific treatment, drug, food or supplement. Always seek the advice of your physician or other qualified health provider with any questions you may have regarding a medical condition. Never disregard professional advice because of something you have read from IBPF.
*The views, thoughts, and opinions expressed in the text belong solely to the speaker, and do not necessarily reflect the official policy or position of International Bipolar Foundation*