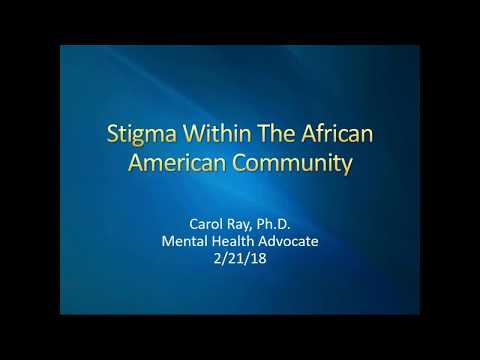 Dr. Carol Ray speaks about the dangerous stigma against mental illness in the African American community and how that very stigma affected her struggle with bipolar disorder.
Dr. Carol R. Ray has a PhD from the University of Nebraska-Lincoln in Interdepartmental Nutrition and a master of science degree from North Carolina Agricultural and Technical State University in Food and Nutrition. She is a 1983 graduate from Spelman College with a bachelor of science degree in Chemistry. Dr. Ray grew up in her younger years in Salisbury, Maryland, and she grew up her formative years in Greensboro, North Carolina. Her career spans over several fields—from teaching anatomy, biology, physiology, chemistry and earth science at the college level to working as project coordinator at the University of Maryland Eastern Shore in the Physical Therapy Department. Additionally, she worked in research at the Johns Hopkins Center on Aging and Health in Baltimore, Maryland. Carol has also been an executive director of an agency that focused on the disaggregation of data for minority groups. There she educated Congressional and Senatorial staff regarding the importance of funding for minority groups in order to improve health issues. She was also inducted into Phi Upsilon Omicron National Honor Society while working on her PhD at the University of Nebraska-Lincoln. Carol is also the author of Poems Inspired by Mother and A Celebration of Life, which was inspired by the sudden onset of her mother's illness and subsequently given two days to live due to cancer. Dr. Ray wrote her book as a result of a tragedy that occurred on June 2, 2011. Carol desires to be a voice and advocate for those who have mental health conditions, as Carol herself has bipolar disorder.
International Bipolar Foundation is not intended to be a substitute for professional medical advice, diagnosis or treatment. We do not recommend any specific treatment, drug, food or supplement. Always seek the advice of your physician or other qualified health provider with any questions you may have regarding a medical condition. Never disregard professional advice because of something you have read from IBPF.