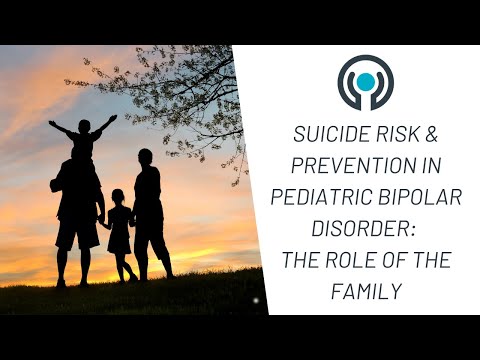 Sally Weinstein, Associate Professor of Clinical Psychiatry, Licensed Clinical Psychologist, and Associate Director, University of Illinois Center on Depression and Resilience (UICDR) at the University of Illinois at Chicago, joins us to share her research on suicide risk and prevention in pediatric bipolar disorder. Bipolar Disorder has the highest risk of suicide in all child disorders, yet it remains an unaddressed problem with limited research on prevention. Dr. Weinstein shares her research into the role of the family in interventions and how they can impact the risk, prevention, and treatments. Then, she shares her findings and translates them into real life objectives we can take towards reducing suicidal risk in children.
If you are in a crisis, please call 1-800-273-TALK (8255) or 1-800-SUICIDE (784-2433) in the US, or view our list of international hotlines: http://www.suicide.org/international-suicide-hotlines.html
Sally Weinstein, Ph.D., is a Clinical Psychologist in the Pediatric Mood Disorders Clinic (PMDC). Dr. Weinstein is engaged in programs of research investigating the psychosocial treatment of children with bipolar disorder, the assessment and treatment of suicidality within pediatric bipolar disorder, and the influences of parent and child mood disorders on pediatric asthma. In addition, Dr. Weinstein provides clinical evaluations and treatment for children and adolescents with mood disorders; facilitates the RAINBOW group therapy program for children with bipolar spectrum disorders and the Teen Girls Depression Group; and is the Director of Psychosocial Training in the PMDC. Dr. Weinstein received a Bachelor of Science from Duke University (2001) and obtained her Ph.D. in Clinical Psychology from the University of Illinois at Chicago (2009). Dr. Weinstein completed her Internship in Child Clinical and Pediatric Psychology at La Rabida Children's Hospital in Chicago, Illinois (2009), and completed a two-year Postdoctoral Fellowship, funded by the National Institutes of Health, within the Pediatric Mood Disorders Program/Pediatric Brain Research and Intervention Center at the University of Illinois at Chicago (2011).