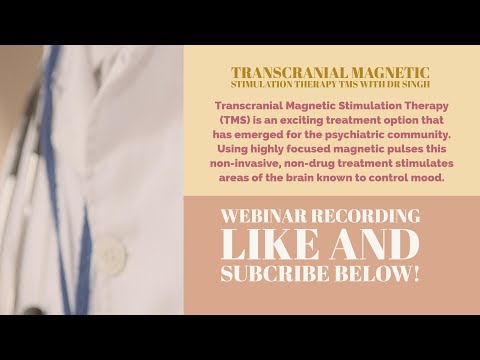 Transcranial Magnetic Stimulation Therapy (TMS) is an exciting treatment option that has emerged for the psychiatric community. Using highly focused magnetic pulses this non-invasive, non-drug treatment stimulates areas of the brain known to control mood. Such a therapy may represent the future of neurological and psychiatric treatments. In this workshop you will learn the basic principles of transcranial magnetic stimulation therapy, how it can be used, and the latest research on disease states that it treats.
Dr. Singh has been involved in medicine since 1995. As a leading psychiatrist in Washington, D.C. and Northern Virginia, he not only has extensive experience in both inpatient and outpatient settings, but he is an experienced psychiatry administrator who continues an active clinical practice. He founded Tysons Psychiatry in 2008, his elite private practice in downtown Tysons Corner, and has since been providing exceptional, comprehensive care for individuals, couples, and families. As an expert psychopharmacologist, Dr. Singh's services have been requested by recognized VIPs in politics, journalism, and the media. In addition to his expertise in psychopharmacology, he is also an expert in psychotherapy and serves as the Medical Director of a large psychotherapy practice, Integrated Clinical Concepts.
He has brought new and exciting treatment options for the psychiatric community to the area as he serves as the Medical Director for the Center for Transcranial Magnetic Stimulation (TMS Neurohealth) in Tysons Corner, Virginia. Requested around the country, Dr. Singh serves as a special consultant in the psychiatric aspect of pain management for Advantage Healthcare Systems in Dallas, Texas. Dr. Singh received his undergraduate degree at the University of Virginia in both Biological Chemistry and in Religious Studies. He went on to obtain his Medical Degree at George Washington University School of Medicine and continued at George Washington University to complete his internship and residency. Dr. Singh values education: he serves as faculty at two schools of medicine and serves as a requested speaker in the United States.