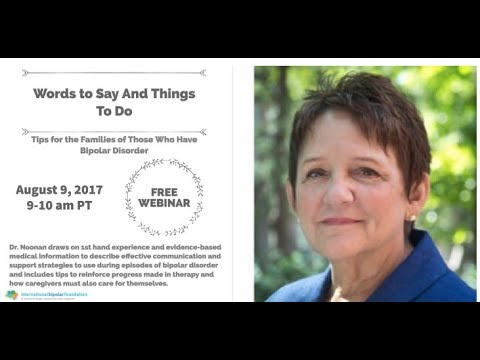 Mood disorders such as depression and bipolar disorder can be devastating to the person who has the disorder and to his or her family. Family members and close friends are often the first to recognize the subtle changes and symptoms. They are also the ones who provide daily support to their relative or friend, often at great personal cost. Families need to know what to say or do to cope with the person's impaired thinking and fluctuating moods.
Dr. Susan J. Noonan draws on first-hand experience of the illness and evidence-based medical information. She will offer specific suggestions for what to say, how to encourage, and how to act around a loved one. Her presentation will describe effective communication and support strategies to use during episodes of bipolar disorder, including special challenges a person may present. She will also include tips on how to reinforce progress made in therapy and how caregivers can and must care for themselves.
Check out the rest of our webinars on our playlist here!
Dr. Susan J. Noonan is a physician, patient, and author of two books, a website and blog on Psychology Today on managing depression and bipolar disorder, where she draws on personal experience and evidence-based medical information to create concise and practical guidelines for managing and caring for someone with those conditions. Dr. Noonan graduated with an A.B. from Mount Holyoke College, earned a Doctor of Medicine degree from Tufts University School of Medicine and a Master's Degree in Public Health from the Harvard University School of Public Health. She achieved board certification in Emergency Medicine, which gave her the opportunity to treat patients with a variety of medical conditions, including many years counseling, treating, and advocating for individuals with mental illness. She currently works as a consultant and Certified Peer Specialist, facilitating groups in the greater Boston area.